Wedding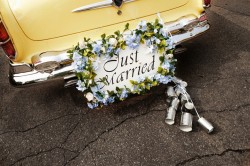 Wedding Tips

Thanks
Include a wedding photo in each thank you note-a picture-perfect way to express your appreciation

Toast
Brides - Prepare a special toast for your groom as a surprise during the reception

Candlelit
Provide small candles for all your guests and invite them to light them during your unity candle ceremony as a symbol of their love and support for you

Gifts
The most important wedding gifts? Those the bride and groom give to each other. Make them personal: a piece of heirloom jewelry, season tickets to the game or opera, all your love letters compiled in a beautiful album, reservations for a trip to be taken on your first anniversary

Getaways
Make a romantic getaway in a horse-drawn carriage or sleigh, a limousine with your attendants, a hot air balloon or a vintage automobile

Memories
Have a slide show created from photos of both of you from babyhood to the present. Have it shown during your reception to take guests on a trip down memory lane,

Commitment
Make a commitment to prepare special dinner once a month on your anniversary date, with flowers and wine for each other, to let you spouse know how much you appreciate and love him/her

Sign Here
Have an engagement photo framed in a wide photo matte. Ask guests to sign the photo matte instead of a guest book for a personalized keepsake.

Petals
Dry the flowers your fianc? gives you during your engagement. Have your flower girl sprinkle them as you walk down the aisle or bundle the petals in tulle and have guests shower you with petals as you leave the ceremony.

Together
Make dates with your groom-on your wedding day! After the ceremony, spend a quiet moment together as husband and wife... a good time to exchange tokens of your important day.

Growing
Incorporate ivy into your bridesmaids bouquets and encourage them to root and plant the ivy for a living reminder of your friendship.

Traditions
Remember.... something old, something new, something borrowed, something blue, and a lucky penny for your shoe!!